Building the UK ORCID consortium
The Jisc UK ORCID consortium will be three this year and we recently welcomed our 90th member, Liverpool Hope University. In this post we reflect on the growth of ORCID both globally and in the UK and outline some plans for the future.
The growth of ORCID
ORCID celebrated its fifth birthday last October and in that time it has grown to over 850 member organisations in 44 countries, with over 4.7 million ORCIDs registered globally. The pace of ORCID's uptake is increasing, with over a quarter of those members joining in 2017.

In the UK, there are currently 121 member organisations (consortium and non-consortium members) and over 200,000 ORCID IDs registered.
ORCID member organisations come from all parts of the research lifecycle including funders, publishers, research organisations and researchers themselves. ORCID members are building the 'plumbing' to ensure a flow of trusted, open research information with the ultimate goals of saving time, effort and frustration for all and improving the quality and integrity of the data exchanged.
Many publishers are integrating ORCID into their workflows – 75% of new ORCID registrations occur because journals are asking authors to include their ORCID in new submissions. The Wellcome Trust has made ORCID a mandatory requirement on grant applications and RCUK (now part of UKRI) has integrated ORCID into its own and related systems, including JeS, Gateway to Research and Research Fish.
In the latest guidelines for REF2021, HEFCE (now Research England) has given notice that they expect to require ORCID as a staff identifier in future exercises and its use is strongly recommended for REF2021 (para.21, page 5) . In addition ORCID implementation is endorsed by ARMA, SCONUL, UCISA and HESA.
While the use of ORCID IDs has many broader benefits across the research ecosystem, one area where it is key is in the transition to open access. The UUK OA efficiencies group has recommended full implementation of ORCID into stakeholder systems and workflows.
Jisc's support for ORCID in the UK
The UK ORCID consortium was launched in August 2015, following a pilot phase in collaboration with ARMA, and now has 90 members. As well as funding the pilot phase, Jisc subsidised consortium membership costs and also absorbed the costs for technical and community support (through project funding). Our work as a 'kickstarter' in supporting implementation in the UK was recently acknowledged in ORCID's first consortia awards.
Our 2017 member survey highlighted the benefits members have seen since implementing ORCID IDs including:
"Much more accurate information on publications and research activity. We have found it a useful source of truth for checking against other sources of information"
"Reduction in staff time spent entering publication details manually."
"Better engagement from researchers – helped me to build relationships as I offer to import people's publications."
"Improved visibility of authors and outputs."
"Better awareness of academic publishing requirements."
"Better onboarding for new academic staff."
"Increased repository deposit."
Consortium membership provides discounted access to the ORCID premium API, as well as our dedicated UK support web site, community events, a helpdesk and advice from our support staff. A full list of features and benefits is available.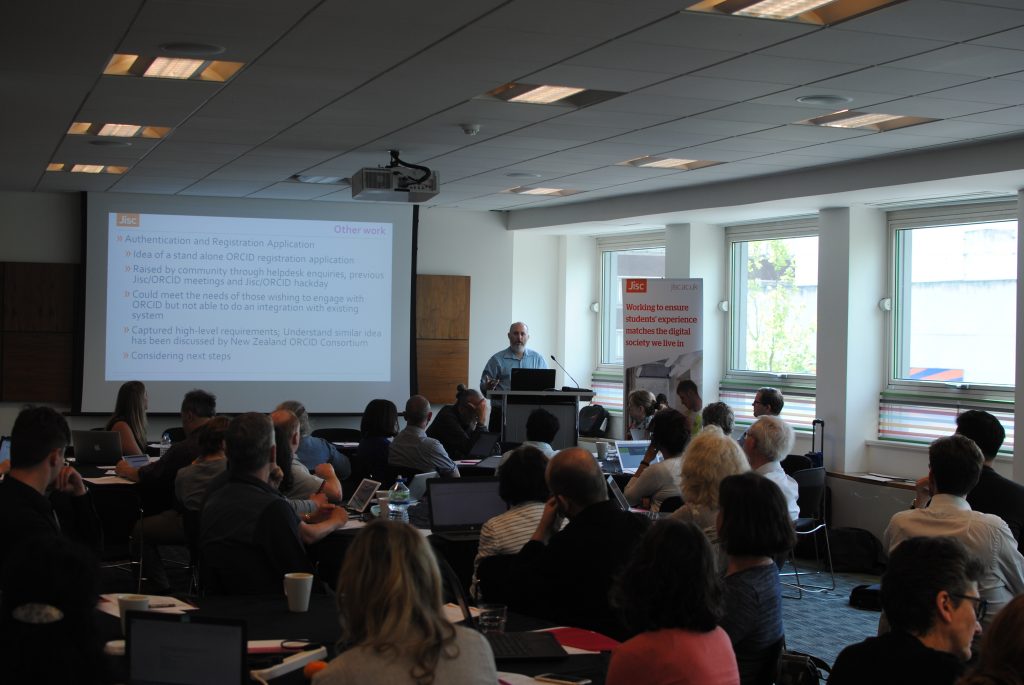 The consortium also plays a vital role in gathering requirements and articulating the voice of its members to inform consortium activities and also the development of ORCID. A key area in this work is to feedback collective member requirements to vendors to enable further integration with institutional systems. For example, EPrints users can now benefit from a new plugin to integrate ORCID, which have been developed in collaboration and with support from the Jisc UK consortium.
The consortium in 2018 and beyond
As well as supporting ORCID's global project roadmap, the UK consortium will continue to provide support to institutions to make the most of their ORCID integrations. In addition to our ongoing helpdesk support our plans for 2018 include:
A hackday has just taken place in April which offered the opportunity to work with others in the community to identify and develop potential use cases for the ORCID API. We'll be sharing the outputs soon.
A webinar on 6th June on the possibility of a UK ORCID hub for those institutions who don't have the resource to manage their own integrations.
Our annual members' day, this year themed Cultivating ORCID: Growing Together, will take place on June 28th.
Supporting institutions to stay up to date with ORCID developments including upgrading to ORCID API 2.0+ by the sunset date of API version 1.2 in August.
Working with institutions to ensure integrity in ORCID implementations following the Collect and Connect programme.
Advancing the technical infrastructure by exploring new developments such as tools for institutions to manage ORCID using shared infrastructure, and workflows that improve the user experience across institutional systems.
Continuing to build a community of practice in the UK to encourage peer sharing and support, through events, webinars and developing shared resources.
Creating case studies covering the benefits of ORCID, examples of technical integrations and approaches to communication and advocacy. This will contribute to ORCID's global 'Collecting the evidence' project which was launched in March.
Whether you're a member or prospective member, please get in touch to find out more about ORCID and the benefits of consortium membership on help@jisc.ac.uk or see our membership page.