2022 Community Call
For our first community event for the UK ORCID consortium this year, we held a community call on 7th June 2022. This blog post describes some of the topics discussed in this participant-led event.
Affiliation Dashboard
Paloma from ORCID talked us through the 'Affiliation Dashboard' – a recent addition to ORCID member portal – and the information it offers. The affiliation reports are available to consortium members only and show ORCID iDs for all of the researchers affiliated with your organization. ORCID iDs, names, and affiliation details can be downloaded as CSV to cross-reference with internal organizational systems such as a CRIS. You will probably want to check that you can log in to member portal https://member-portal.orcid.org/ so you can have a look at your own organisation's entry and statistics. Discussion on affiliation practices centered on the question of adding end dates for employment affiliations. What happens when an employment ends and the source (or owner) of the employment statement doesn't add the end date? Most UK members are adding employment affiliations using CRIS or repository systems, which are not the 'source of truth' for employment information, like start and end dates. Missing end dates or employment entries deleted because they could not be made to be accurate (no end date suggests ongoing employment) are a barrier to making ORCID a source for (rewording one of the contributions) "a valid CV option, as a list of affiliations that are all validated can't be faked, and it makes it all more sturdy as a source of truth".
Some valuable discussion points on end dates and GDPR are captured from the event chat
end dates are sometimes not shared across systems or services due to concerns on GDPR
However GDPR requires the data controller to maintain accurate information so leaving end dates uncompleted could be considered more problematic than adding them
In the general case, affiliations can be found in publications, outputs and other public sources, they are considered low-risk (from a data and rights protection perspective)
One exception is individuals for whom affiliations may be high-risk (e.g. those working in contentious research areas)
Recommended resource 1 https://iapp.org/news/a/publicly-available-data-under-gdpr-main-considerations/
Recommended resource 2 German review of GDPR and ORCID
Testing using ORCID Sandbox
Monica Duke and Jonathan Green (University of Nottingham) shared some background info, tips and recent experience on using ORCID Sandbox. This covered understanding the different APIs available, use of credentials and using the correct URLs to access them, and methods for populating test records on sandbox. Sandbox can help clarify the behaviour of integrations (especially when using vendor systems) and to troubleshoot, however it can be tricky to cover edge cases or all the different types of test cases.
Arts and Humanities: PRVoices
ORCID (&metadata) for Arts and Humanities is a topic we have addressed in the last couple years in our community, and Jenny Evans (University of Westminster) is leading a team completing a funded project which looks at this (plus PIDs more generally) and other challenges for research infrastructure. Our own Adam Vials Moore is also contributing to this project Check out their project info or some of the other resources shared by Jenny and team during the event: Example resource (portfolio) Practice made Practical. Reducing the OTHER of non-text (poster) Unheard Voices: Practice based Arts Research and the PID Landscape (Pidapalooza 2021 presentation)
PRVoices got some lovely feedback during the session, showing this project is meeting a need within the community.
as someone who has done a lot of work trying to create metadata for niche works/cultures, can I just say that I LOVE this 🙂
Researcher Profiles
Kirsty from UCL provided us with some discussion prompts on using ORCID record info when planning research profiles across your university sites. This work was done in the context of a wider consideration of research infrastructures – you can check out the presentation in a 2021 webinar or hear more in this ResearchTalk podcast. Do you know how and where researcher profiles are displayed and generated at your organisation? Discussion points raised included: universities may want to present a particular selected view of their researcher's work which may not match what is inside an ORCID record; on the other hand, from the point of view of a researcher, the ORCID record provides flexibility to add a bigger variety of outputs and activities than that which falls within the scope of their current employer; we wondered how public engagement activities can be represented?
We ran out of time on the day to address a topic we have been comparing notes on in our community recently: experiences of writing works to ORCID records from CRIS or Repository. The statistics tell us there were more than 62,000 records updated by UK consortium integrations, many records having employment affiliation added, and with more than 2 million works added (see picture). There are over 60 UK member integrations doing record updates. The discussion will continue on the community Teams space.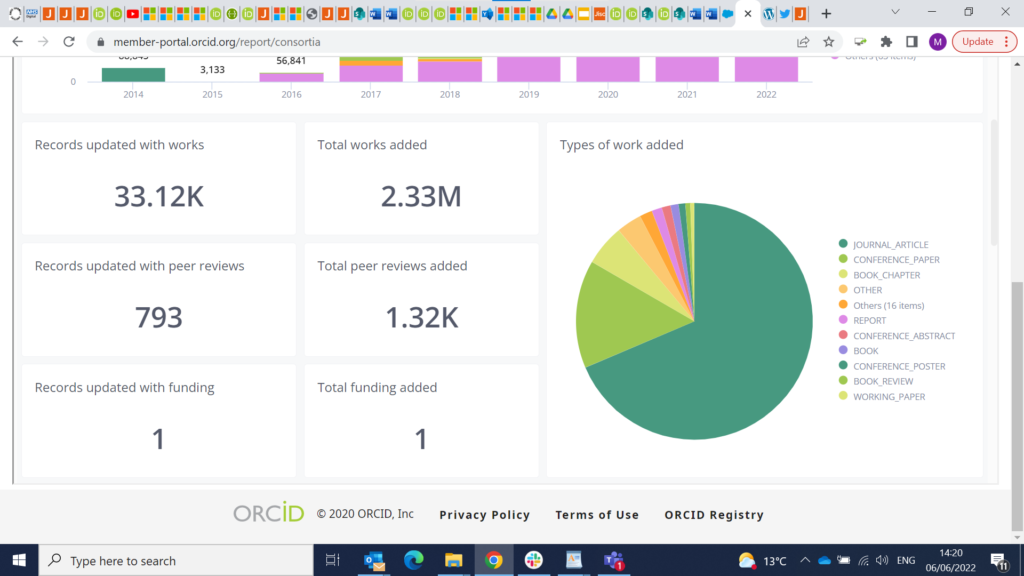 What's unusual or unexpected about your work?
Or perhaps some of your work goes unrecognised? We like to get to know our community better, so we asked this at the start of the meeting. We know that roles are varied and ORCID is commonly only a small part of several other responsibilities within a research or scholarly communications remit. We promised a safe space so we are not sharing all the contributions, but here a the comment that resonated with lots of others.
I don't think people realise the incredible amount of time it takes to keep on top of the fast moving area of scholarly comms

Event participant
We are still open to suggestions for other topics to discuss together for the coming months, please do get in touch with your ideas and requests. The resources from the event are available to consortium members through the Community Teams Space.