What's next for the consortium in 2021?
Alas we cannot give you the answer to the million-dollar question "What can we expect in 2021?", as we do not have that crystal ball, but what we can do is to provide some UK ORCID consortium updates, including some changes in staffing in the Jisc ORCID support team.
Events and community
Like in any other sphere of life, the Jisc support team has needed to adapt to uncertainty and plan and think in an agile manner. In 2020 we swiftly pivoted the annual event from a face to face meeting to take place online. We have reflected on that experience, in which we tried to emulate all the aspects of our annual members event, but held them in a more spread out and online format. We are now planning and shaping up the events for 2021 and thinking how we deliver these in the most effective way.
We have a number of themes being considered, and would be happy to hear more suggestions from our community. Some of the topics are ORCID IDs and Equality, Diversity and Inclusion, especially around name changes and name visibility; ORCID ID workflows and data privacy; working collaboratively on an advocacy toolkit; Birds of a Feather (around institutional systems)
ORCID's new tools
ORCID are in the process of releasing two new tools for consortia. These are Improved Member reporting and Affiliation Manager. Member reporting is a tool to provide more useful metrics to member organisations about their integrations and their researcher's interactions with ORCID.  Affiliation manager assists organisations that do not yet have an in-house integration with the ORCID API. To hear more about these and other ORCID plans, look out for invites to the ORCID Product Interest group webinars.  The next one is in March (Register here) or read a blog post summary from December.  When the products are introduced to the UK consortium we will be supporting our members during the rollout. 
ORCID has also introduced Service Provider certification and as more providers obtain certification during 2021, this should simplify the process for any organisations going through procurement processes to determine if a product meets ORCID's implementation standards.
The consortium from 2022
Consortium sustainability is key to the consortium's future. With this in mind pricing for membership of the consortium for the next licence period from 2022-2024 has been in planning throughout 2020. We have delayed announcing new prices in order to be able to factor in our members' financial challenges and balance that with making sure the consortium remains viable into the future and can cope with uncertainty. We will be contacting members shortly with news about pricing for the upcoming licencing term – main contacts should look out for an email coming soon.
Supporting the UK PID for Open Access project
The UK ORCID team supported this UKRI funded project throughout 2020 and will continue to do so in 2021. ORCID ID is the de facto standard person identifier for those currently active in the research space and is one of the five priority PIDs identified by this project. You can find out more about how ORCID IDs could be integrated into the research ecosystem in this post – There's A PID For That, Part 4: People. For further information about the project, please read the blog post – There's A PID For That! Next Steps in Establishing a National PID Strategy.
Staff update
Last year we celebrated 5 years of the consortium and as we start 2021, some internal team changes are afoot.  Balviar Notay has led the ORCID support team here at ORCID since the launch of the consortium in 2015.  She oversaw the consortium being built from the ground up, without a template.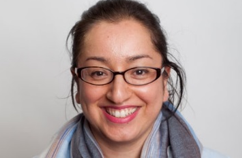 Balviar was the lynchpin that held together the different parts of what's needed to run a consortium. In the initial stages, she skilfully wove together a team that included external consultants and Jisc's own staff, then eventually brought the effort in-house in 2018.  Over the 5 years when she was in the driving seat, Balviar helped the consortium get a solid grounding and  become well-established. She brought to the role an optimism about the success of the consortium, together with a belief in standards and identifiers, and a wide breadth of knowledge of the research landscape.  Her diplomacy helped her navigate all the different internal and external relationships needed to keep the consortium running, and her people skills were essential so she could draw on the experience and knowledge of colleagues at Jisc, in member organisations, and beyond, bringing them to bear on the task of making the consortium the best it could be.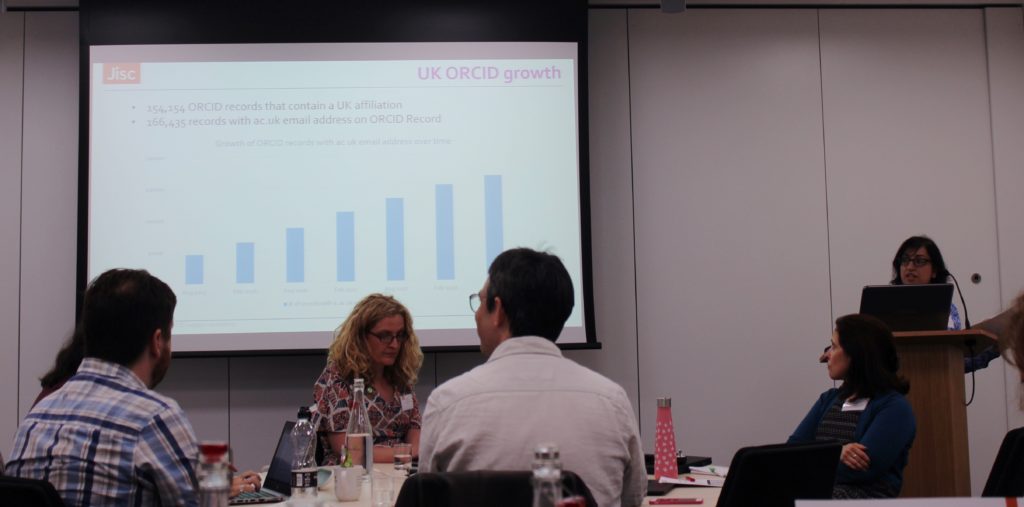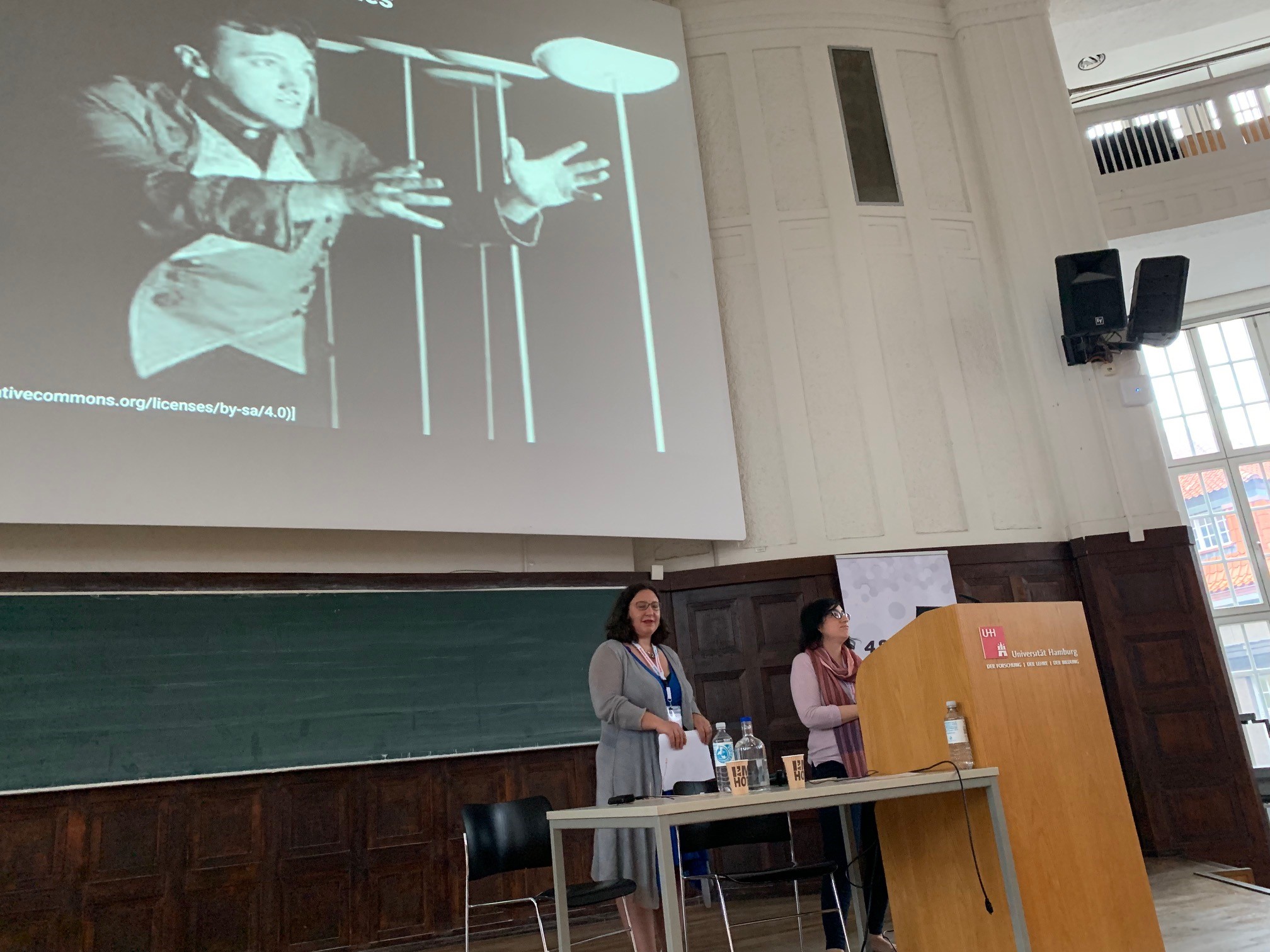 "keep all the plates spinning"

Balviar Notay (on the right) presenting at Open Repositories 2019
Balviar has many talents, but to finish off, I wanted to particularly thank Balviar for her vision in recognising that events and community are key to making a successful consortium. She translated that vision into enthusiasm and commitment to provide a driving force that made our annual member events and all the other events for the consortium happen and bring results.
Balviar's last gift to the consortium is to leave it in the safe hands of Christopher Brown, who we will introduce next.  I hope you will all join me in thanking Balviar for her excellent stewardship, and wishing her luck as she moves to focus on CORE and other projects at Jisc. Thank you Balviar, 'for keeping all the plates spinning' and helping the consortium to become the functioning body it is now, built on a sustainable footing.
Christopher Brown has worked for Jisc for 12 years and led on programmes (such as Access & Identity Management, Virtual Research Environments, and Research Tools) and manages projects and initiatives relating to open research, persistent identifiers, research data, research information, research analytics, research tools, standards and work that supports Jisc's research strategy and services. He works closely with international organisations, such as the Research Data Alliance (including managing the RDA UK node with UKRI-STFC), engaging with national and international stakeholders, and keeps a watching brief on developments with persistent identifiers and research notebooks, for example, to ensure Jisc is positioned correctly with national and international developments. As well as now being lead for the UK ORCID Consortium, he is leading the UK PIDs for Open Access project and recently gave an update on this project at PIDapalooza. As part of his PID work, he is currently a member of the ROR Community Advisory Group and the British Library UK DataCite Consortium Advisory Board.
If you have any questions on any of the above, or would like to get in touch with the consortium support team, please email us at via the helpdesk so we can make sure your query is directed to the right person.