Cultivating ORCID: Growing Together, June 2018
Thank you to all who came and participated and presented at the ORCID members day. Please find all presentations at:  http://bit.ly/ORCID18
In the morning there were updates from ORCID and Jisc and presentations from institutions on their ORCID implementation journey.  In the afternoon there were breakout sessions on a number of topics from Collect & Connect to building on the New Zealand Hub.
The following are the main themes and discussions from the event to take note of:
Institutional Updates
3 institutions shared stories and lessons from their journeys within the consortium. Lisa Haddow (Library and Archives Research Support Manager), discussed the rollout of ORCID ID at Stirling University with just one member of staff (herself!!).  Adam Vials Moore (previously UoL Research Archive Technologist), discussed the journey to ORCID ID usage and lessons learned at the University of Liverpool. Jenny Evans (Head of Research and Scholarly Communications), presented on implementing ORCID ID with Haplo at Westminster.
Lessons from the talks include:
Making sure you know which committees were needed to approve which piece of financial or organisational change / implementation / guidance
Understanding your internal culture(s) and developing your advocacy appropriately
Developing champions of your system to ensure you had a voice in the appropriate decision making and agenda setting areas of policy and practice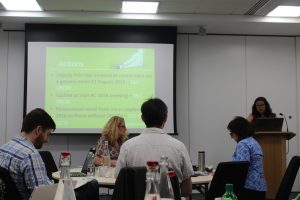 Lisa Haddow presenting on behalf of University of Stirling
Collect & Connect
Paula Demain from ORCID ran a breakout session on Collect &and Connect. This initiative was on hold for several months while it was reframed, and has now been  relaunched by ORCID. The UK Jisc ORCID team will be reaching out to our consortium members to support them in engaging with the Collect & Connect program and to ensure that all integrations are working towards meeting ORCID's integration best practice guidelines. We will be reviewing ORCID integrations and communications against the individual elements of each Collect & Connect badge.  Watch out for a webinar which will be offered later on this year.
Self Service
Paula Demain gave an update on Self Service in the general ORCID update.  Self Service will provide a way for institutions to manage their contact information and public membership pages that appear on the ORCID website.  All members will need to move to using Self Service by the end of the year, so again the Jisc ORCID team will be sending out guidance on what you will need to do to start accessing and managing your institutional information in the near future.
Ecosystem of persistent identifiers.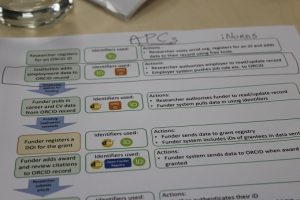 Handout from PID session
Neil Jacobs presented a session on mapping the PID landscape.
Identifiers act as coordinates on the research map. They both tell us where something is located, and also act as signposts, guiding us to information sources and helping us to discover connections between people, ideas, organisations, funding, employment, publications, activities, and more.
However there is more work to do in effectively using these to fully realise the potential.  See the blog post https://orcid.org/blog/2018/06/21/mapping-pid-landscape
Feasibility of the New Zealand Hub for the UK.
Monica Duke ran a session to get feedback and consider possible use cases in the UK for an equivalent of the New Zealand Hub. This might be of interest for example to those institutions that do not yet have an integration.  We ran a webinar in May of this year to demo the New Zealand hub which you can watch at http://bit.ly/ORCIDNZHubWebinar Please get in touch with us if you think this might be useful for your institution.
Exploring better visualisation of data
A recurring theme from various events, and especially the UK hackdays, is to have better business intelligence on the uptake of ORCID within institutions.  Owen Stephens presented the discussions from the last hackday (this blog post links to a report on the hackday) and lead a breakout session on "Reporting and actionable intelligence" There is on-going exploration work in this area, building on the requirements identified so far, including being able to do more with the statistics from the monthly reports, such as visualisations to monitor trends.
Request for more training on using the API
There was a request from the afternoon breakout session for more API training for non-technical people. We ran a session on the API for techies in September 2016, and trialled a session on searching the API for non-technical colleagues in March 2017. We will seek to expand our resources to fill the gap for an explanation of the API for non-coders, alongside work looking at tools to make ORCID information more accessible.
API 3.0
A heads up that work is ongoing at ORCID on the next API version 3.0.  ORCID have indicated that this change will be more incremental in character, rather than a major revision which was represented by the move between 1.2 to 2.0.  The latter was needed to address scalability and roadblocks encountered with 1.2, as well as to add new functionality. News on 3.0 is starting to appear on the ORCID blog e.g.
Fostering community of practice and working together

As part of a concluding discussion in the main room, themes on ways to make the consortium work better for all and fostering communities of practice were explored. It was clear that members were keen to have the consortium act as a collective, using the size of the membership and authority of Jisc to engage with vendors and lobby for improved infrastructure. Resources were also high on the list, tailored advocacy material – for administrators and academics, at all levels. Also narratives or case studies that helped to capture and explain the benefits and journey of joining the consortium. Training materials were an appreciated resource to continue to maintain and expand – again not just at the technical level but at different levels of approach and for different audiences.
We have done a lot of engagement with the community over the last 3 years and we have built momentum and we want to sustain and build on this.  There was a request from one member to see contacts from other institutions who may be using similar systems/implementations.  We do already have such a list in the  UK implementations spreadsheet. This spreadsheet is curated by consortium members – so in the spirit of fostering a communty of practice please make sure your info is up-to-date.  Also please make use of the mailing list orcid-uk@jiscmail.ac.uk if there is a topic of interest that you might want other members to comment on. If there is a clear need for more focused discussion then the Jisc ORCID support team can organise meetings/calls/webinars as required.  One thing that is clear from the discussions is that we need to work together as there is still more to do to improve the technical infrastructure.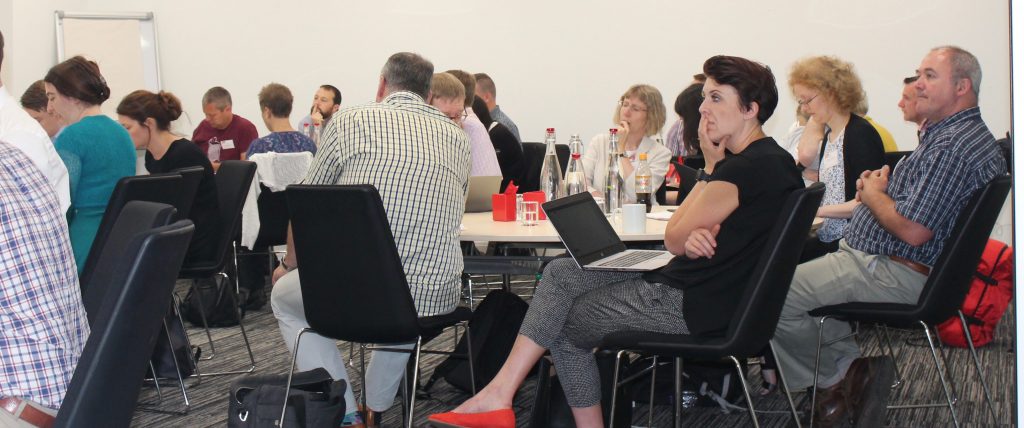 Vision going forward
Jisc ORCID support service would like to create a vision statement for the consortium like the Vision from the Australian Consortium We used the last session of the day for members to brainstorm ideas on their tables.  One contribution was "By (date to be inserted) 80% of UK HEI academics will have an ORCID ID that are linked to recent publications and grants to create a discoverable, searchable and interactive network."  Another used the starbucks model/vision "one number, one person, one university at a time" and at that point it was definitely time for a coffee!
Resources and links from the day
Outputs from the breakouts (and other input from the day) are captured on this shared GoogleDoc  and there are also resources from the day
available.